Contest Calendar, Invitations and Results 2002
Links are likely to disappear, or point to the current year's events. but I will not bother to remove them.
---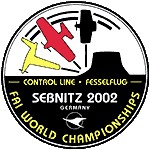 July 14-22, Sebnitz, Germany
(For things that only appear in German in the above site, there is Translation Help Here)
---
C/L Contests 2002
® marks link to results.
National 2002 Contest Calendars:
British (Dave Day) | British (Andy Whorton) | Swedish
---
---
Cup of Ekaterinburg, F2D, 22 - 24 February. ®
Vintage Stunt Championships #14, Tucson, Arizona, USA, 21-24 March. ®
Bill Nusz Memorial, Whittier Narrows, California ® Pictures by Marlon
Vidreres 2000 ®
X. International IKR - World-Cup and II. Holland Combat International in Bitterfeld, Germany, 3-5 May. World Cup: F2B, F2C, F2D. Other classes too. ® Pictures
2002 International Fesselflug Cup, Salzburg, 10-12 May. F2ABC. ® Report (in German) with Pictures
Holzlandpokal 2002 F2D, 11-12 May ®
6th OPEN DE PARIS, 18-20 May, F2ABCD ®
Limfjords Competition Aalborg, Denmark, 18-19 May. World Cup F2A & F2B; also F2C & F2D + national classes. ®
Grand Prix of the Ukraine, Kiev, 24-27 May 2002. F2ABCD, F4B ®
The Sainte-Eulalie (Bordeaux) International: 25-26 May. F2A, F2B, F2C, but only F2B will be World Cup.
Werner Groth Memorial Cup 2002, Sebnitz, 8-9 June 2002. F2ABCD. Grand rehearsal for the World Champs. Report (German), pictures, ®
Gold Engine Cup, Moscow, 7-10 June, F2C ® by CMBL.
The Open Nordic (Scandinavian) C/L Championships 2002, 15-16 June. ®
5th City of Ciriè World Cup, F2B, ® (PDF)
18ème Grand Prix de France, Landres, France, 22-23 June. World Cup F2A, F2B, F2C. Also F2F. ® by CMBL. F2C Report by Andy Whorton.
MACH Annual Control Line Weekend, June 29-30, Herentals, Belgium. ®, pictures
Memorial of Jozef Gabris, World Cup F2B, F2D, in Bratislava, 2-4 August.
Dutch Combat International, Grave, Netherlands, 10-11 August.
Pepinster, Belgium, 10-11 August. F2ABC. ® by CMBL. Report, Pictures by Matthias Möbius (in German)
Wierzawice, Poland, 24-25 August. F2D. ®.
C/L AEROBATICS, Gran Canaria, Canary Islands, 24-25 August. Contact Alberto Parra


British Nats, 24-26 Aug. F2C ® from Andy Whorton. Stunt ® from Dave Day. F2D ® from John James.
Tournament of the new Millennium, Santarem, Portugal, 6-8 September. Various Racing classes. Contact Julio Isidro

® by Wayne Trivin.
18ème Grand Prix de Luxembourg, Landres, France, 7-8 September. World Cup F2ABCD. Also F2F. F2C ® by Andy Whorton
---
World Cup, Hradec Kralove, Czech Republic, 14-15 September, F2ABC. Contact Jiri Pavlicek


Open Internacional Ciudad de Valladolid, World Cup, Spain, 5-6 October, F2ABCD. ®
Dnipro Cup, F2D, Novomoskovsk, Ukraine, 4-6 October. Pictures by Igor Milenin. (very slow connection)

---
---
British Racing Results by Andy Whorton.
Loet Wakkerman's Assortment of Combat Contest Reports.
Swedish Contest Results