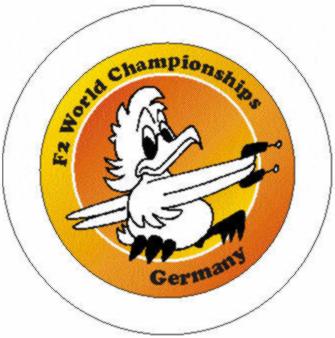 World Championships 2002, F2B Round Up
by Claus Maikis , F2B Contest Director in Sebnitz
A few edits made by Göran Olsson
The WC is over. Time to spend a few thoughts on the whole (F2B) event. I've heard some very nice comments about the running of the contest. And I keep receiving compliments from all around the world via e-mail. Thanks a lot.
I took the job of event director because the organizer needed help, and because I was just around. I had enough time, some modest knowledge of F2B rules, a limited English vocabulary, and a somewhat known face. I've never done such a job before, and I'm not exactly a genius in organizing. However I've tried to do my best. I'll leave it to you to judge the outcome.
I'm glad that competitors usually don't have a look behind the "stage". There were times I didn't believe in a successful end. There were problems the organizer had never anticipated. And there were problems because of mere lack of experience by each and every individual of the organizing stuff - including me. If in the end everything seemed to fall together nicely it was the combined effort of all involved people - including their short sleeping hours and wrecked nerves. Since those nice words were addressed mostly to me I'd like to emphasize that the task couldn't have been done without the help of parts of the Sebnitz team, my good friend Stephan Raetsch, several supporting stunt flyers, and of course the Möbius [Bitterfeld] computer team. I'll pass on your compliments to them. Thanks also to Laird Jackson [FAI Jury Member] and Keith Trostle [US Assistant Team Manager].
I've learned a lot. Not only about the essential requirements of how to prepare and run a stunt contest. I've learned how to keep an overall view and arrange things; and how to react in problem situations. And I've learned who are those on whom you always can rely, and who are not! It was a great experience, and I'm sure it was the right decision to accept the challenge. A big job can be tough - but there's nothing like the satisfaction from doing it with friends. If the parking or practice or other facilities were not perfect, please forgive the organizer - it was the best he could manage and offer. If there were any other mishaps which affected your joy - PLEASE ACCEPT MY APOLOGIES!
Thanks again for your kind and complimentary remarks.
Claus Maikis