Model Airplane News, April, 1949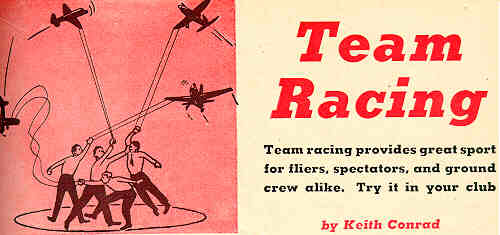 Team Racing
By Keith Conrad
THERE'S a new day dawning in model aviation - A new type of sport and model is being developed. Although the new model speed cannot match those speeds flown by the screamin' broomsticks, in appearance it leaves its forefather in the dust.

Can you imagine flying a U-control ship resembling a Goodyear type racer, and competing in regular Air Race events? First you have preliminary-heat races, followed by 5 and maybe 10 mile races with pit stops and thrills for all. This idea has been thought of many times but nothing was ever worked out on it.
The F.A.S.T. club, seeing the handwriting on the wall (rising speed and more safety problems), started work but did not stop there. After much discussion we decided on the kind of ship we wanted for such an event. First we limited motor displacement to .299 cu. in., and plane size to a minimum of 125 sq. in. of effective wing area; this was to be topped off with a completely cowled engine, and a cabin or cockpit. Fuel load is 1 oz. maximum and fixed landing gear is mandatory. For further attraction we add a dummy pilot and decorate the ship in the gaudiest of color schemes. Up to this point you can see how many possibilities are on the horizon for such an event. There are thrills aplenty when two or more of these little ships are given the green flag to start a trophy dash or one of the other highly competitive races. With no effort at all these Team Racers have hit a snappy 85 mph. Of course the longer races are more interesting in that anything can and usually does happen, and the ground crew has to be on its toes with "fuels and tools" necessary to put their ship back into the race as fast as possible. Each type of race entered requires thought before going out into the circle. For instance, in a 1/2 mile acceleration race you want to get all the rpm possible for that fast getaway; this calls for a low pitch prop. On the other hand, in a 5 or 10 mile race you have to sacrifice some of those rpm's so your limited fuel supply will last as long as possible yet keep you at a competing speed. In these long races where pit stops are necessary fuel tanks which can be filled quickly are a good idea. With the glo plug era here, ignition troubles are eliminated from this event. However a hole in the cowl the size of a small plug wrench is advisable, this will allow access to plug for elimination of excess fuel. For more realism "deadmen" are used for takeoff instead of hand release. With a pull of a single string, one starter can release up to four ships. New angles are constantly being devised for making the racers easily accessible for repairs and more realistic in flight. Perhaps the question arises why we chose a motor having a displacement of .299. It all boils down to one thing: more fellows own an engine of that size than the very large or small variety. This size engine will produce enough power for a very interesting speed. Also, fuel consumption is at a happy medium. From the spectators' viewpoint a ship's speed is of least importance. "The important thing is," remarked a spectator at a recent meet, "you can see these little Team Racers, they are not like those other queer looking noise makers. These look like real full size racers. And instead of racing against a stop watch they race against each other." I imagine some of the speed merchants are completely burnt up with this new form of "speed" flying. Don't get me wrong fellas - I have clung for dear life to that old pylon at many a meet. Come on into our new circle-competition soon will be keen. Give it a try, huh!
F.A.S.T. Club Rules and Specifications
MODEL SPECIFICATIONS. A Team Racer does not have to be a scale model. However, the design should follow that of real racing or sport type airplanes such as the Thompson, Greve, and Goodyear Racers. Model must have a full length fuselage, rudder or butterfly tail, spinner, and a cockpit or cabin. No pod, boom, or flush type cockpit designs allowed, unless model is an actual scale model of a real aircraft employing such features. Cockpit or cabin must be in proportion to those on full scale aircraft, and must contain a dummy pilot's head. Engine must be completely cowled. However, if the builder wishes the sparkplug porcelain or its equivalent may be allowed to protrude. Landing gear must be fixed or retractable (no dollies). Wheels must lower for all landings if of retractable type. There shall be a tail skid (no wheel), ending in a loop suitable for use with a takeoff release device.
Minimum effective wing area shall be 125 sq. in.
Engine displacement shall be between 20 and .30 cu. in.
Fuel tank shall hold a maximum of 1 fluid oz.
No metal props shall be allowed.
All Team Racers shall have a means of engine shut-off in flight.
Flying lines shall be 60' in length, .001" dia. for each 3 oz. of model weight, .010" dia. minimum, and withstand a 20G pull.
All Team Racers shall be flown in a counter-clockwise direction.
Team Racers must be colorfully painted and have a large numeral on each side of fuselage. Model shall also have a license number on right wing and on rudder. This number could be your AMA number prefixed by an NX or NR. All these construction and finish details are aimed at creating an attractive and realistic miniature racing airplane.
Suggested Contest and Flying Rules
Using a common center, 3 circles shall be marked at 10', 60', and 70' radius. In the center of the circles shall be a pylon post, or other object around which all pilots must walk. The 60' circle is the flying radius of the racers. The 70' circle is for landing and taking off. The 10' circle is for the pilots' guidance.
Takeoff releases (automatic stooges) shall be provided for 6 models. These shall be equally spaced to the rear and the side of each other so as to provide sufficient clearance between models. All release pins should be connected to one master handle so that the starting judge can either release all models at one time or at split second intervals depending on the skill of the pilots and length of the race. After refueling, each helper releases his own model.
A marked waiting lane for 6 models shall be provided adjacent to the flying circle, so that while one race is in process another group of models can be readied.
Pits should be provided in a place where the spectators can get a close look at all racers without being able to interfere.
A starting judge, recorder, announcer, and 6 lap counting judges shall be provided.
For establishing records and for spectator interest a stopwatch shall be provided to clock the winning model of each race and compute its speed.
After all racers are in the circle for a race, engines must be started and ships ready for flight within two minutes. Fuel may be added to the tank at any time up to the moment of release. A starter may be used to start engines if desired. Any number of models may fly in a race. After the required distance has been flown, all engines will be shut off as soon as possible and the circle cleared for the next race. Time for a race shall be from moment of release to completion of the required distance including time for refueling.
If maximum altitude of any ship exceeds 30' during a race, that lap will not be counted.
Any attempt by the pilot to whip or lead his model will disqualify him from that race.
To qualify a Team Racer for a contest a pilot must: (a) Have model judged to see that it meets all construction and finish requirements. (b) Make a 20G Pull Test. (c) Make a qualifying run to demonstrate his ability and the model's stability. This run shall be a level flight of not less than 1/2 mile or more than 1 mile.
One pilot and 1 or 2 crew members shall constitute a Team.
Each Team can enter as many models in the contest as desired. Naturally only one of these can compete in a given race at a time.
Interchanging of motor or tank units is permissible during a race.
It is suggested that records be established for 1/2, 5 and 10 mile races.
Fuel tank will be measured whenever a model sets a record, or at any time a judge deems it advisable. An oversize tank will nullify any races or records made with it.
EVENTS:
1/2 mile Acceleration Dashes. Open to any Team Racer that qualifies. As many dashes as desired may be run. Points award: 10 for 1st, 7 for 2nd, 4 for 3rd and 1 for 4th. Models will be listed according to accumulated points. 5 mile Consolation Race. Open to models from 7 to 12 in. point standing 10 mile Feature Race. Open to models. 1 to 6 in. point standing.
AWARDS:
1st, 2nd, 3rd, 4th place winners in Consolation Race.
1st, 2nd, 3rd, 4th place winners in Feature Race.
Best Appearing Team Racer.
Highest Speed in an acceleration dash.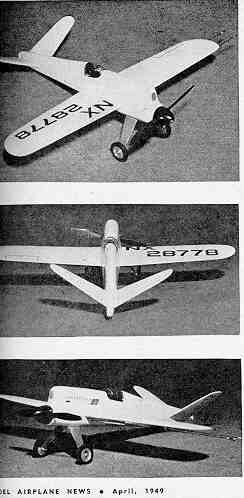 Construction of Chatterbox
FUSELAGE. This is constructed in two halves in the usual block-type manner Use a hard balsa block for the bottom and medium hard for the top. Begin by spot-gluing these two blocks together. Rough cut to side and top view outlines. Next carefully cut top view of fuselage to final dimensions. Split blocks apart and cut in the motor mount runners after making sure your engine will fit the available space. Place fuselage back together by light spot-gluing. Start forming fuselage with a plane, followed by rough sandpaper. Use bulkhead patterns to insure accuracy of contours. Inlay plywood piece in position for mounting landing gear. Take halves apart again and hollow out to thickness as shown on station contour templates. Glue hold-down crossbars in place. Cut holes as indicated for intake, exhaust, and heat vents.
WING. This is constructed from two pieces of 112" x 3" sheet balsa glued together. Cut to wing contour. Form airfoil into sheet, using root and tip templates to get an average airfoil on each panel I Cut wing in half, set 1/2" of dihedral at each tip, and glue together. For strength place a piece of silk over center joint and saturate with more glue. Glue two pieces of 1/6" plywood in place, one on top and the other on bottom, for mounting bellcrank. Cut wire lead-out guide from 1/8" plywood and glue in position.
TAIL ASSEMBLY. "V" type tail is constructed of 3/16" hard balsa. Form symmetrical airfoil in this assembly, as this will insure more positive control Cut in half and glue together after having checked 120 degree arc between the two fins. Cut rudder-valor from side designated on plans, install on stabilizer with hinge. The hinge is made from 2 pieces of linen 1/2" wide and 5-1/4" long, sewn together down the center. Glue hinge in place and solder control horn in place. Install control cable of 1/16" piano wire between control horn and bell crank.
FINAL CONSTRUCTION. Assemble all parts, being sure there is 0 degree incidence in both wing and V-tail assembly. Make sure that motor has neither right, nor left, positive or negative thrust. Canopy is formed from 1/32" celluloid over 1/16" soft wire frame. Cockpit details are optional. However, an hour can be well spent in putting on final touches such as dashboard, stick, pedals, seat, and the all important dummy pilot. If you don't wish to put in all the dressing settle for a minimum of the dummy pilot, he will do the trick for your little ship in flight.
FINISH. All surfaces should be filled and sprayed with synthetic enamel (Apply decals as suggested by plans).
FLYING. Use a mild glo plug fuel Test fly using a 8-9 X-cell prop if a K&B Torpedo is used for power, as in the original ship. Balance nose heavy, balance point should be 1" behind leading edge of wing. From here, you're on your own. See you at the races!